Post by Meowzer on Oct 22, 2009 15:27:21 GMT -5
Wimpy:
We're tired of being pushed around and stepped on! Whenever anyone sees us, they think Ooh hey, a whiskerpillar, how nice, I better pay attention to that bulborb over there." My vision is for them to think "OEMYGOSH! ITSA WISKAPILER! RUUUUUN! Watch out for that pushover of a bulborb on your way out!". But visions never come true without work. BUT I'M WORKIN! YEAH! Soon we'll be the most feared throughout the lands! Even more so than that little Titan Dweevil!
Its much too obvious I would not be able too accomplish such an astonishing feat alone. So I have taken it upon myself to hand-pick the finest, craftiest, most to-be ferocious men in the land. And these are them. Please try to resist the urge to scream in gasping horror, it only agitates them that much more.
Female Sheargrubs
These littl- BIG fellas are my basic teers of terror. They excel at stealth, being able to burrow underground and all. Just watch your back, they might pop up behind you and scare you to death*! But if its only half to death, they'll bite and finish you off. With the iron jaws I am forging, the bite will be mush more deadly! I have recently added a new tool to their arsenal. They have been fitted with makeshift wings, so they can now fly!
Breadbugs
My chubby chums are intimidating and very voracious. They are coated in a respectful coat of fat and can sure take more than punch before going down! They are skilled in burrowing and making dens and spider-holes. If you get dragged into a den you can bet yourself a goner. They posses strong will and a great bite. They'll bite and they won't let go until they want to, or death. Breadbugs have been know to bite, and enemies help their fellows, only to have him get torn in half. When they roll over, they do even better. I am carefully crafting a helmet that will give these guys a headbut to be reckoned with. Crafty thieves, they are. Harvesting strength in numbers, they can drag nearly anything away. Remember to check the water, because they can float, and are therefore good swimmers. More recently, we have trained some of my friends yo jump. When they do, they can kill upon landing, if they land on something.
Giant Breadbug
This guy is much more gluttony than their Breadbug brothers. They are just like a regular Breadbug, but just all-round better. Digs faster, bigger burrows, more defense, better swimming, more bite power. Awe-inspiring stuff like that.
Puffstool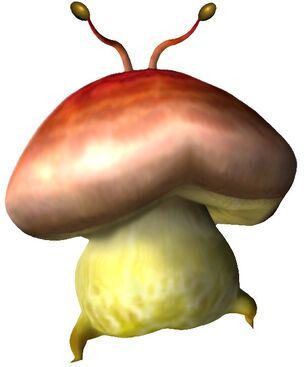 These poisonous mushrooms are quite the wonder. They scuttle around quite quick, I must say. And at will, they emit a poisonous gas cloud. How marvelous! This cloud takes over the mind of anything that breaths it. The only way to stop the unfortunate is to kill it. Like a breadbug, it has good defense and can swim. The Puffstool's weak spot is the bottom of the purple part. While swimming, it is slightly camouflaged, as it looks like just an ordinary `shroom floating along. I Hope some red guy doesn't eat it...
Last but not least...
ME!!! but not yet. I'm not going to cry. Tough guys don't cry... *sniff*
Before:
After: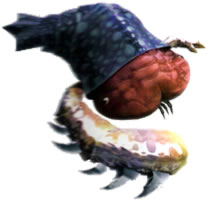 After some training, I'll be this scary! Although large, I will be able to move moderately fast. Just a little more than I can now. With my big arm, I can smash stuff out of this world! Or at least into the ground. I am able to curl up into a ball and roll, doing things such as smash walls, run over tanks, ect. I have a good amount of armor and have a weak stomach. I'm not a good swimmer, but I can sure hold my breath. I'm a good dessert. I can be served with sorbets, pies, and parfaits. When people think about my claws, they'll clamor for every morsel they can get!
____________________
*not actual attack